"MK's Locked & Loaded Tank", SH
AKC SS06706604
DOB 07/23/2018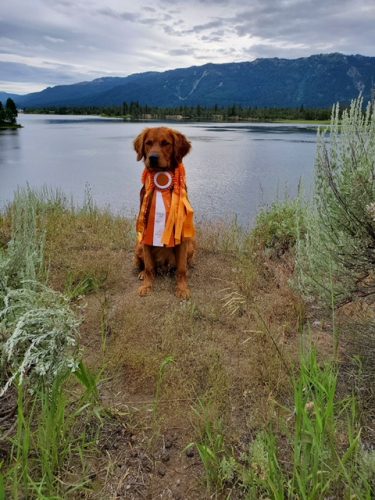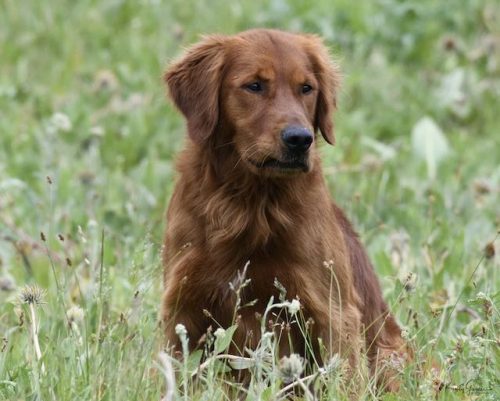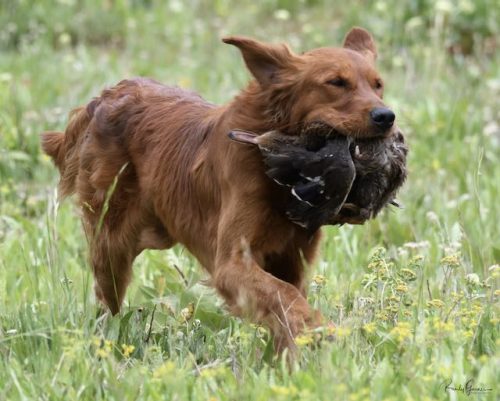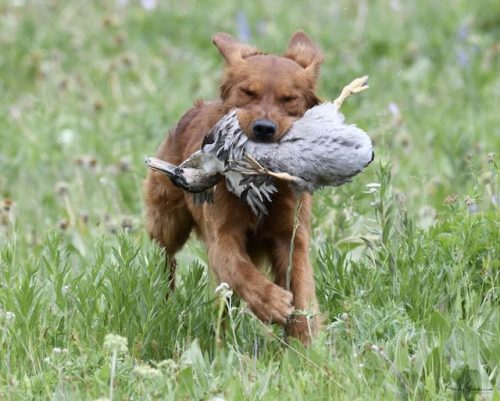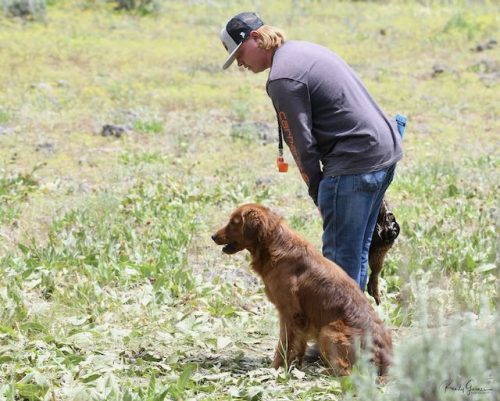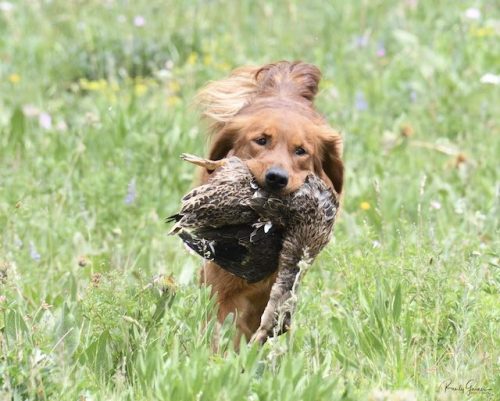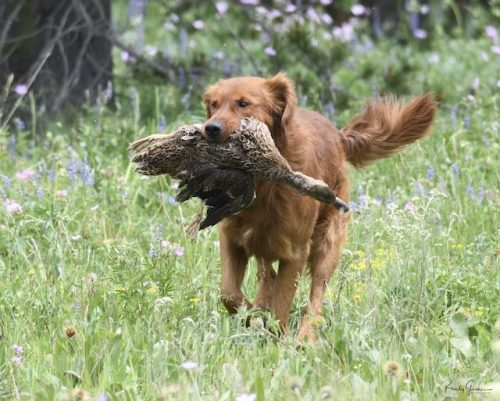 "Tank" received his AKC Senior Hunter Title July 12, 2020!
TANK IS NOT OFFERED FOR OUTSIDE BREEDING!  NO EXCEPTIONS!
Hips:  OFA "Excellent", PennHip:  Right DI=0.34, Left DI=0.29, (Excellent),  Elbows:  OFA " Normal",  Heart:  OFA "Normal", Eyes: OFA "Normal"  Ichthyosis:  "Clear",  prcd-PRA status: "Clear", PRA1 status:  "Clear",  PRA2 status:  "Clear",  Degenerative Myelopathy, "Clear",  Dystrophic Epidermolysis Bullosa, "Clear",  Muscular Dystrophy, "Clear",  Osteogenesis Imperfecta, "Clear",  Sensory Ataxic Neuropathy, "Clear",  Neuronal Ceroid Lipofuscinosis (NCL),  "Clear",   these test were preformed by "Embark", you can go to there website for a great explanation on each.  "Tank" is clear on EVERYTHING!
"Tank"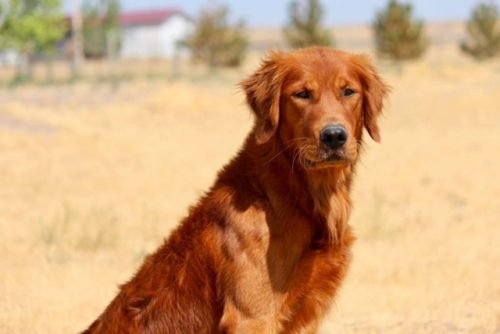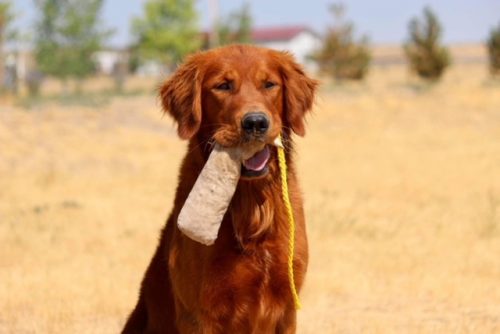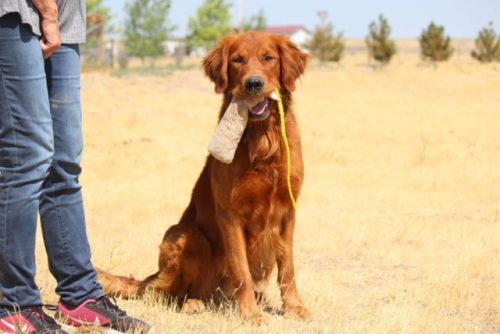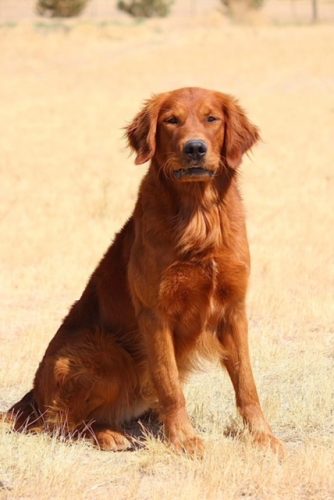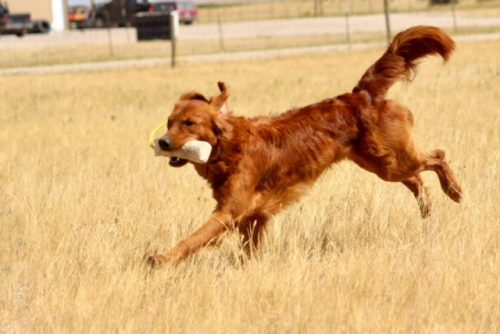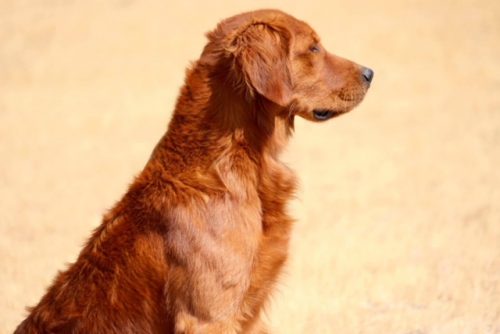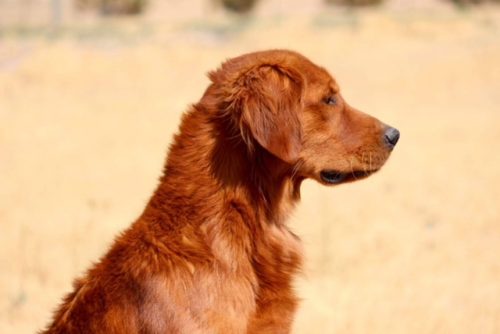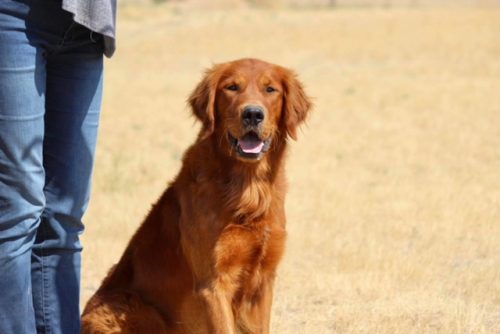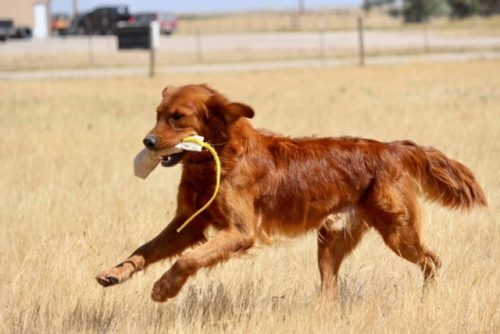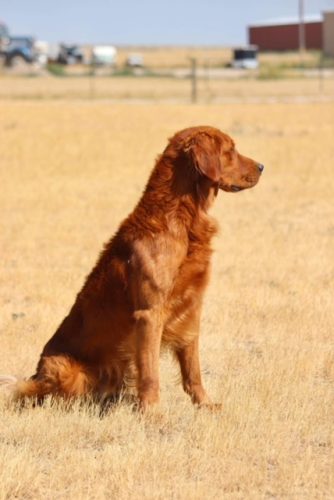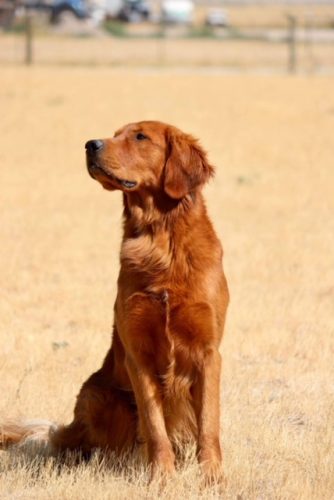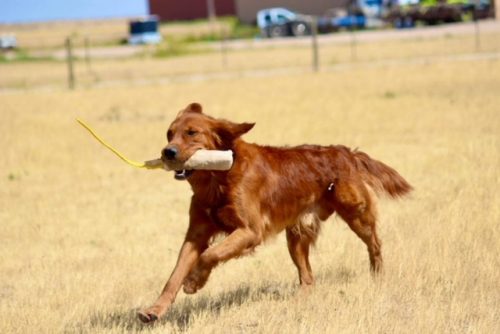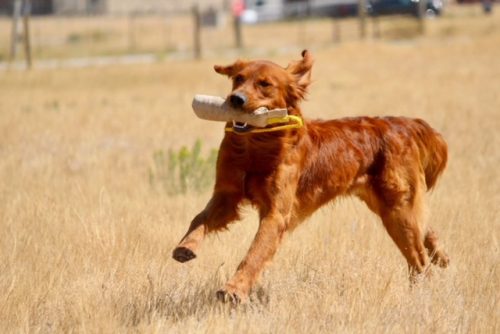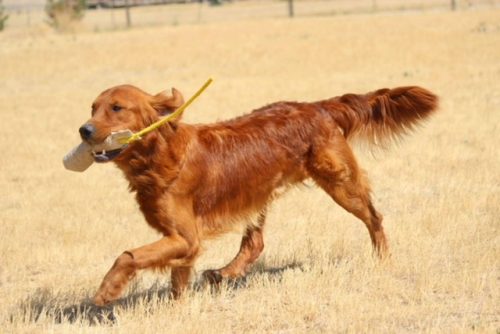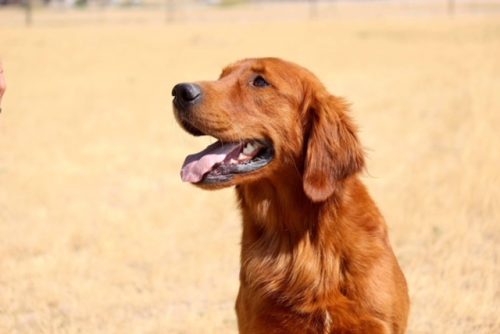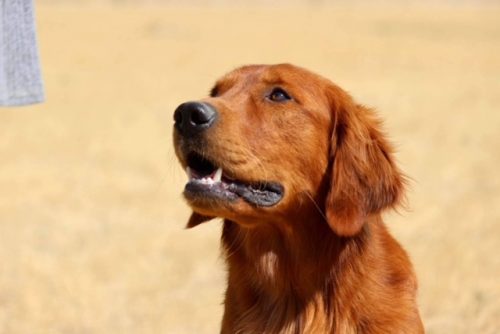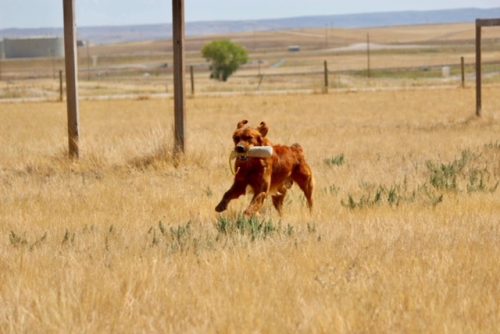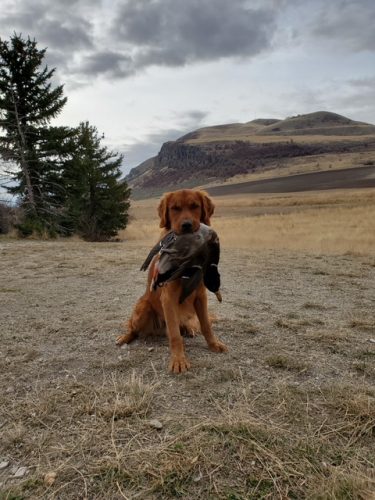 Sire: HR, SHR, MK's Rowdy Boys Raisin A Ruckus, JH AKC #SR63606901
Dam:  Old Oak's Under The Red Sky, JH  AKC #SR81024802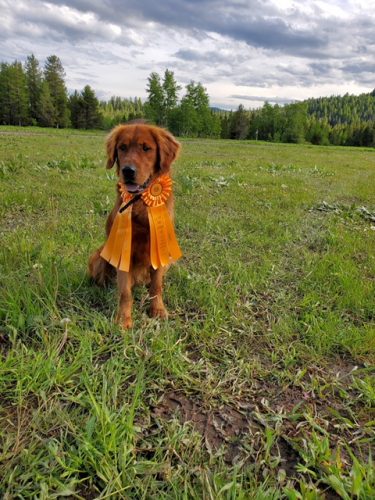 "Tank", received his first Master Hunter pass in June 2021 in Idaho  The season was cut short and he came home in July.  Bummer!!!
"Tank" did amazing at his first hunt test at Island Park in Idaho.  He ran two senior tests and passed both with flying colors.  There was so many distractions at the test but he was only focused on his trainer Dallon Parks and did exactly what he was told to do!  Way to go Tank and Dallon!!
Achievements:  Tank is everyone's dream dog, gorgeous looks, highly intelligent, very focused, tons of drive, great nose, extremely loveable, a deep dark red, a handsome blocky head, 70 lbs and 24″ tall and the typical golden retriever personality!  Tank is currently in training in Utah with Dallon Parks.  We have started running AKC Hunt Test summer 2020, finally!  He achieved his AKC Senior Hunter Title July 12th 2020 in McCall Idaho.  Tank will start running Master Hunt Tests spring 2021!   He is a deep dark beautiful red with a very sweet loving personality.  He is a very handsome male with a bright future ahead of him in the field and as a sire.  Tank is the son of our "Rowdy", go to "Rowdy's" page here and check him out.  Tank is stepping into his dads paws and taking over as Rowdy is now retired.   Tank's first litters hit the ground fall of 2020.  Watch for him and his off spring!  A little about Tank's dam.  "Sky", is Tank's dam, she has earned her AKC Junior Hunter title, Sky was built for working, has a powerful chest, thick, sturdy frame and neck, she currently weighs 65 lbs.  Beautiful dark eyes with an attractive personality.  She comes from the wonderful "Windmill Farms Goldens in Utah.  Sky is the daughter of HRCH & UH Epoch Deveron River MH *** WCX CCA Can JH WCX a MH National Qualifier, Qualifying Stake Winner. Deveron has successfully completed an incredible 20 AKC Master passes.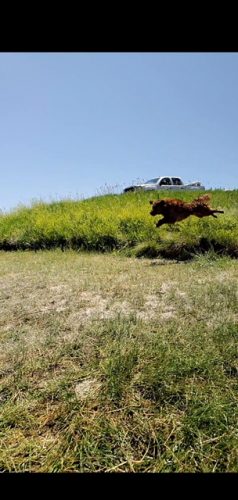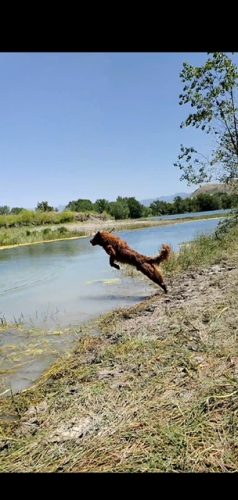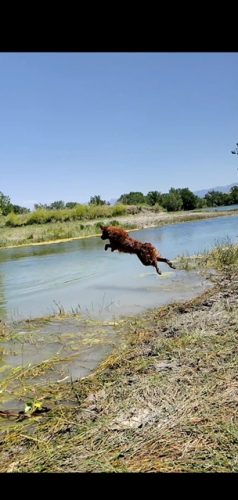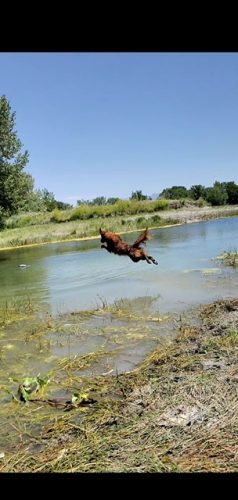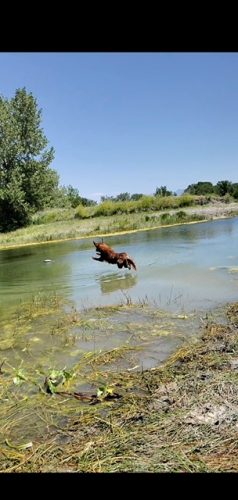 "Tank" is NOT BREEDING ANY OUTSIDE FEMALES!
Pedigree of:   

"MK's Locked & Loaded Tank", SH

Parents
GrandParents
GreatGrandParents
SIRE:  HR, SHR MK's Rowdy Boys Raisin A Ruckus, JH
HRCH, UH, Heldt's Mr Strike 3 Your Out
HR, UH, Heldt's Mr Hunter
SHR, High Spirited Double X Gabby
HRCH, UH, Emma Bee Payne, SH
HRCH, Knight Payne Stewart
UH, HRCH, Princess Bridgett Golden Amber Ace, MH
DAM:  Old Oak's Under The Red Sky, JH
HRCH & UH Epoch Deveron River MH 20, WCX, *** OS, CCA, Can JH, WCX
RockErin Red River Ruckus, MH QA2, OS
Rockerin's Radical Radiance, UD, MH, ***, WCX, OD
Old Oak's Big Shoes to Fill, SH, WCX
DK. BR. CH Clockburn Clooneen
SR Old Oak's Pepper, CD, MH, NA, NAJ, WCX, ***