Presents
"ROWDY IS RETIRED NOW, ENJOYING THE EASY LIFE"
HR MK's Rowdy Boys Rasin A Ruckus, JH
Sire:
Heldt's Mr Strike 3 Your Out, AKC#SN92328808
Dam:
Emma Bee Payne, AKC#SR32771605
"Rowdy"
  "Frozen Semen" only! Your female must have all 4 OFA clearances, hips, elbows, heart & eyes and a genetic panel done for breeding.
AKC #SR63606901
OFA Hips GR-106405G24M-VIP "Good", OFA Elbows Preliminary "Normal", Eye Cerf #GR-44926 "Normal", Heart OFA GR-CA20842/14M/C-VPI-ECHO, "Normal", Ichthyosis Normal,  PRA1 "Clear",  PRA2 "Clear",  PRA,PRCD "Clear",  Degenerative Myelopathy, "Clear",  Dystrophic Epidermolysis Bullosa, "Clear",  Muscular Dystrophy, "Clear",  Osteogenesis Imperfecta, "Clear",  Sensory Ataxic Neuropathy, "Clear",  NCL. "Clear",    "Rowdy" has been tested for all these with "Paw Print Genetics", you can go to there website for a great explanation on each.

DOB 7/25/2010


Rowdy with his SHR title!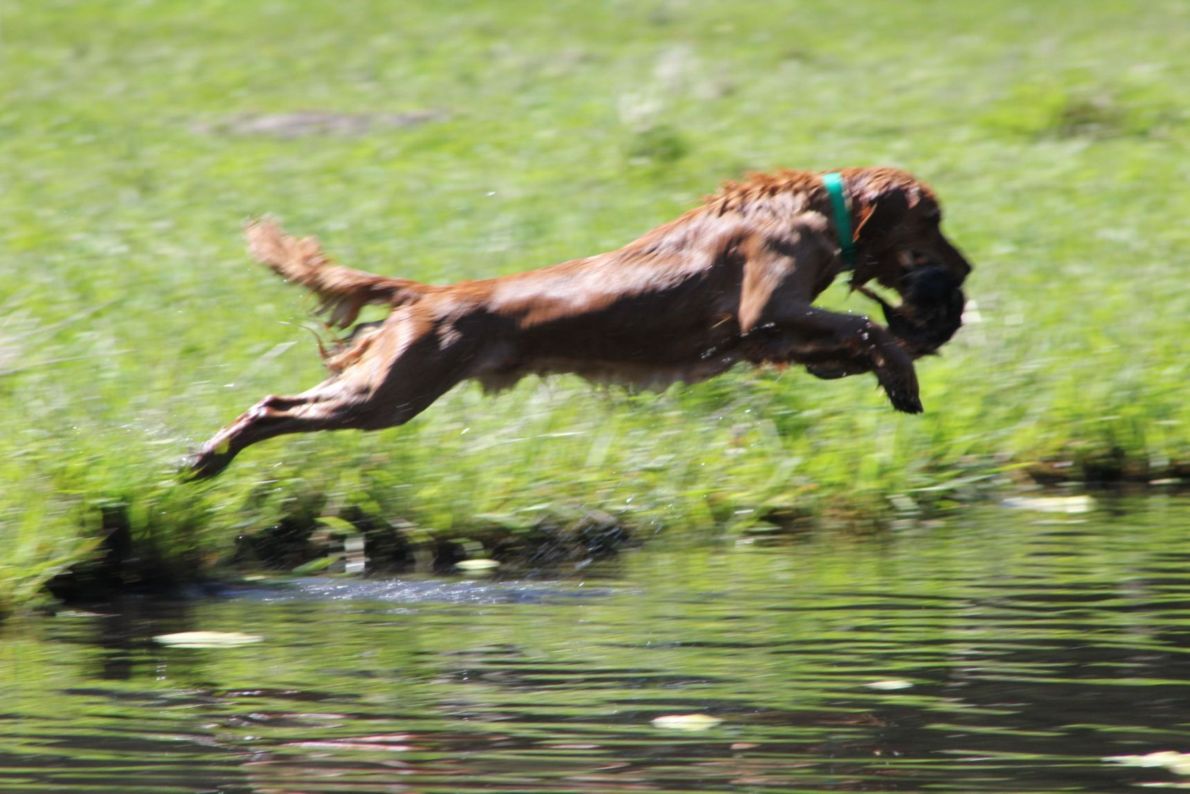 "Rowdy" on a water retriever at just 10 months old!

Achievements:  Rowdy is retired but we have frozen semen on him.
Rowdy is a dark red with a beautiful field coat and he always has a smile for everyone. He is a great guy in the field and is always ready to go. He is crazy about the water, ducks and upland and won't stop till he gets his bird. He has tons of drive and loves the job. He loves people and is a gentlemen in the house. He received his AKC Junior Hunter Title at only 10 months old. After a long time of rest from an accident he went back into training with Tracy Todd, he achieved Rowdy's "SHR" and "HR" titles with UKC. Rowdy has so much talent, intelligence and drive plus good looks. He has a nice masculine broad head and is very muscular. He is siring beautiful pups that are proving to have his talent also.

Pedigree of "HR MK's Rowdy Boys Rasin A Ruckus", JH

Parents

GrandParents

GreatGrandParents

SIRE
Heldt's Mr Strike 3 Your Out
AKC SN92328808, HR, UH, HRCH Titles, 1300 pts with HRC


 

Heldt's Mr Hunter

AKC SN64472103

AFC Rosehill's Mr Speaker, MH
AKC SN14124108

Drumtochty Cuillin
AKC SN09498001

High Spirited Double X Gabby
AKC SN73050210

Tangelo Woodchuck MH
AKC SN36761506

Sungold Jessright
AKC SN17951301


DAM


Emma Bee Payne

AKC SR32771605, UH Title


 

Knight Payne Stewart
AKC SN70775908

Gentleman Bailey Gun'n Gold MH
AKC SN07406508

Dutchess Ginger of Snap
AKC SN12670904

Princess Bridgett Golden Amber Ace, MH
AKC SN78234602

Sir Joseph Alexander
AKC SN45356604
Nikita Gold Rush Delight
AKC SN43871502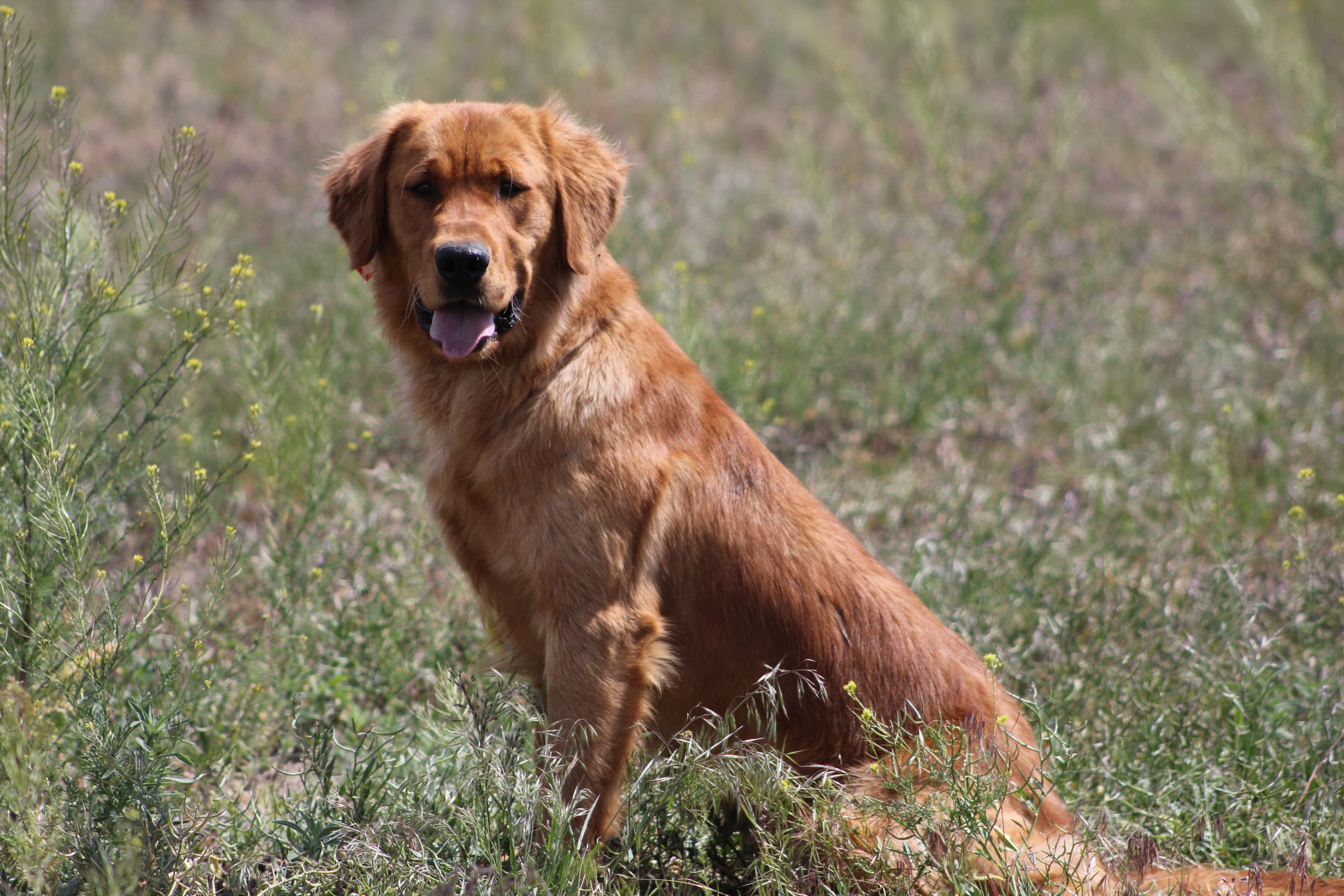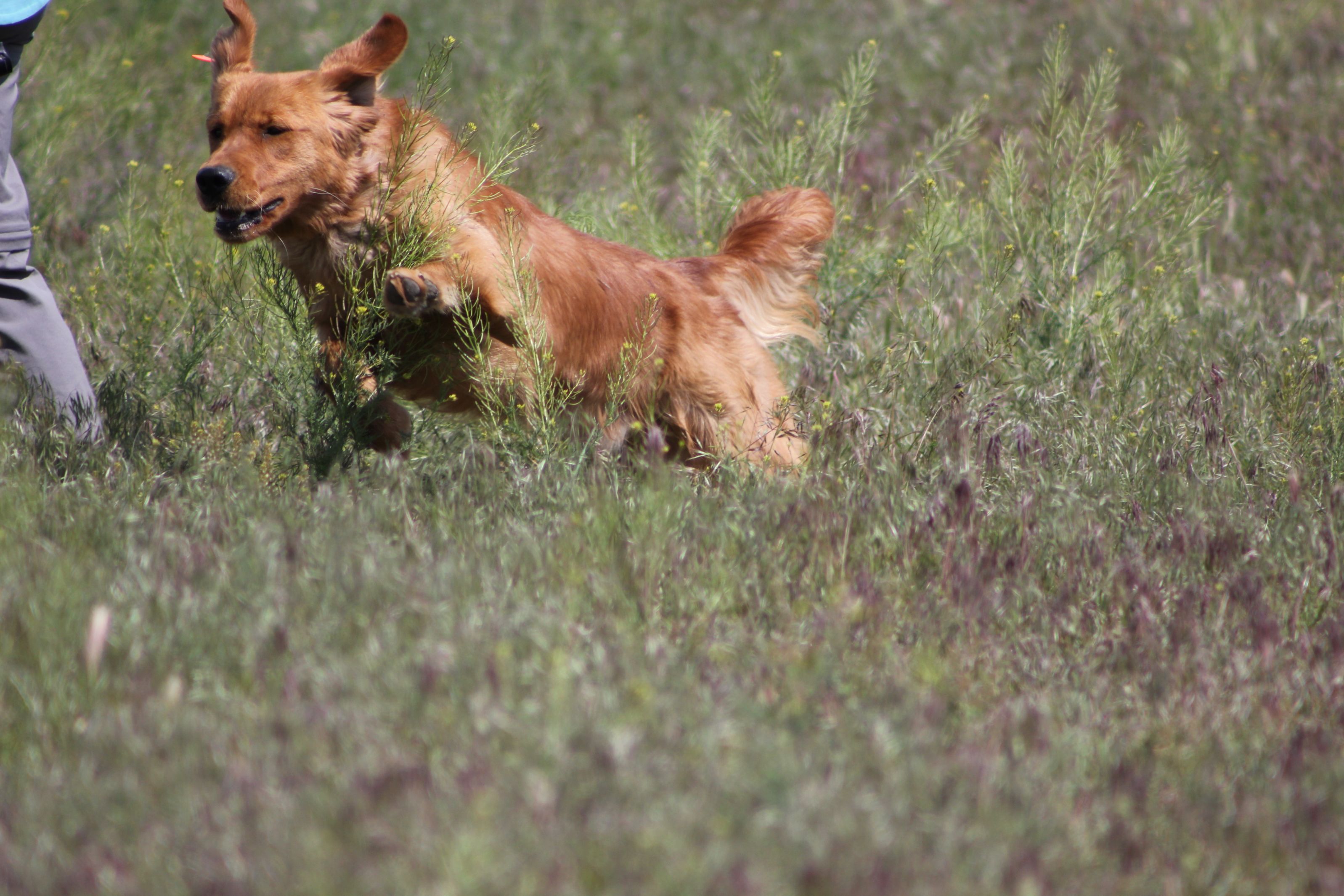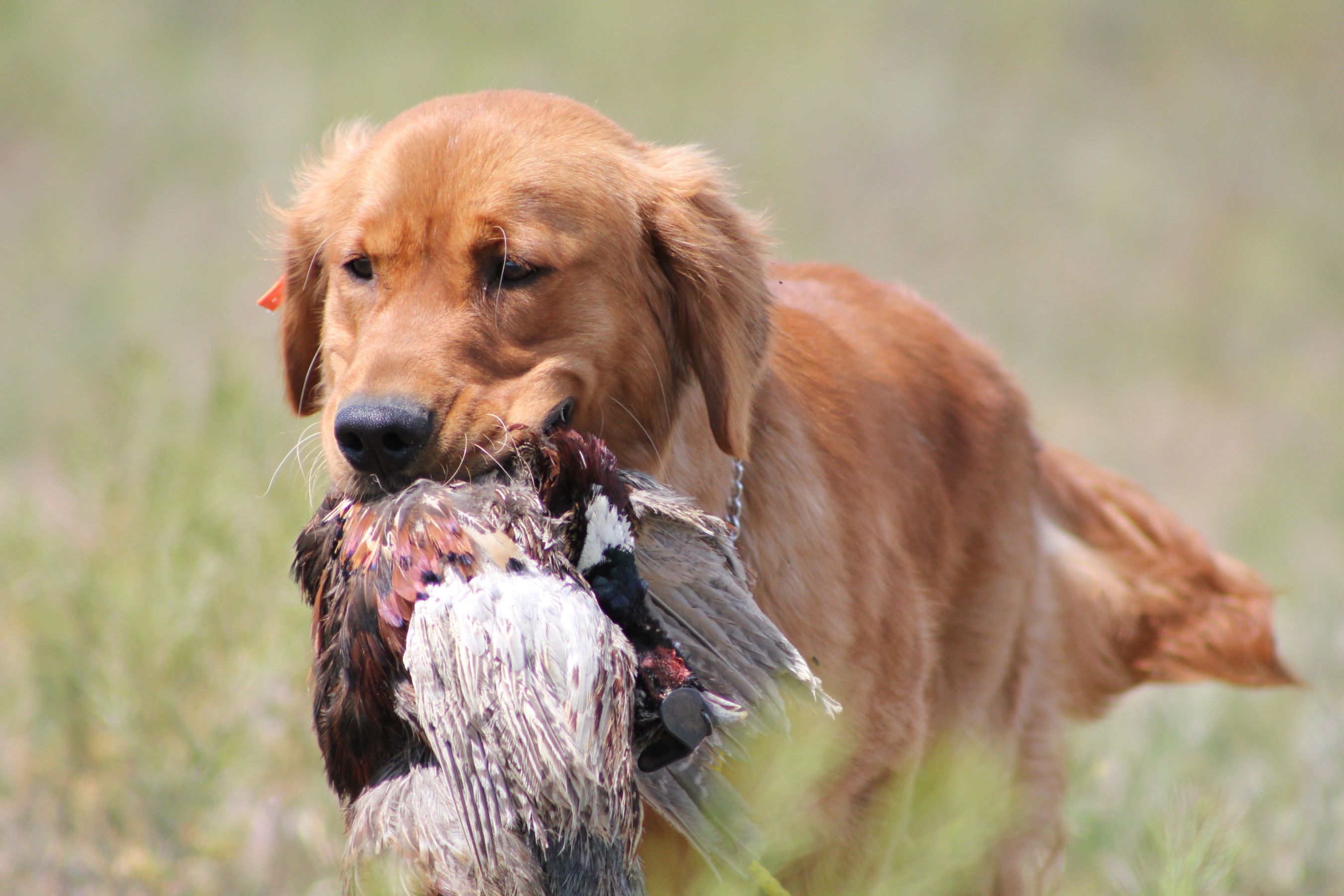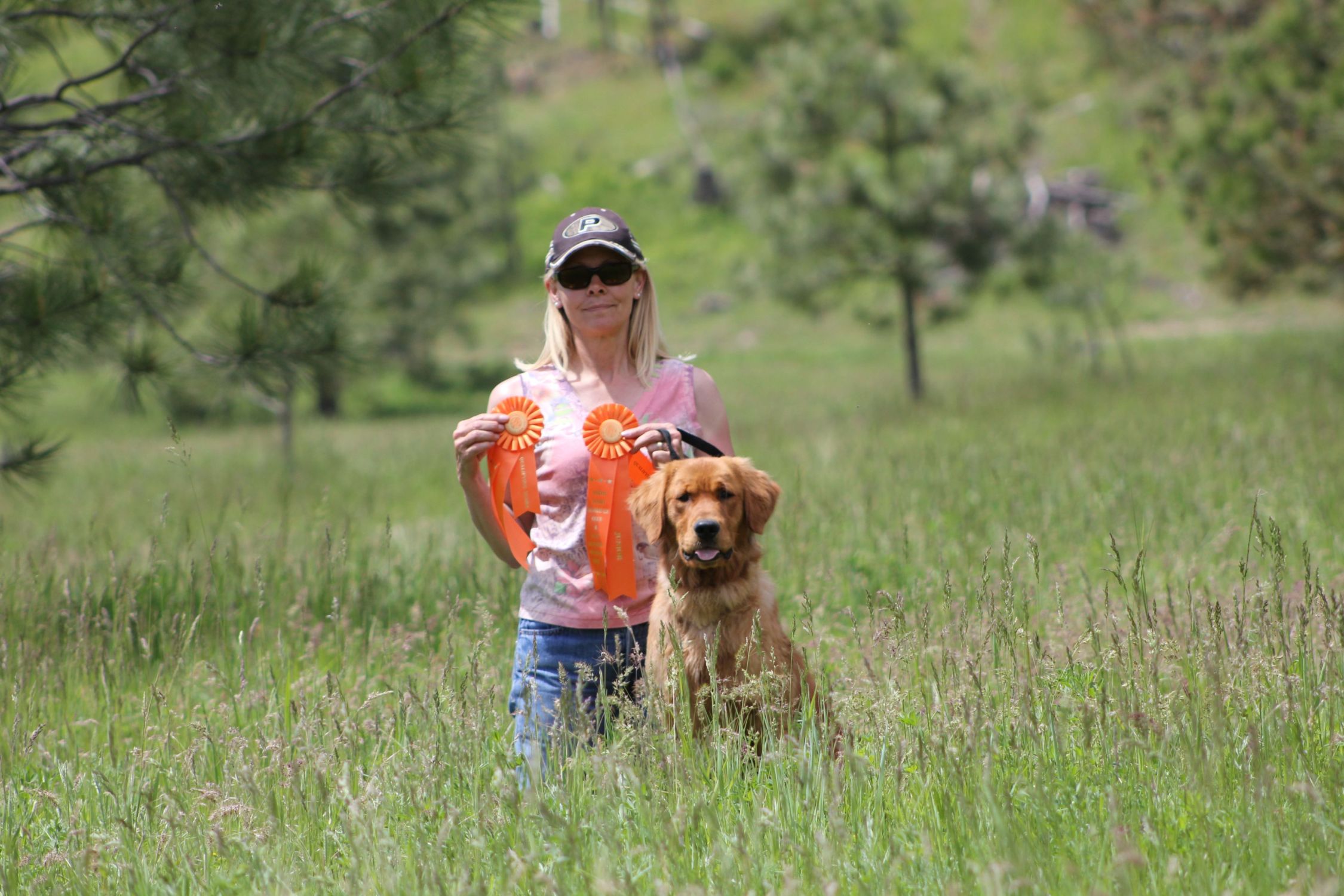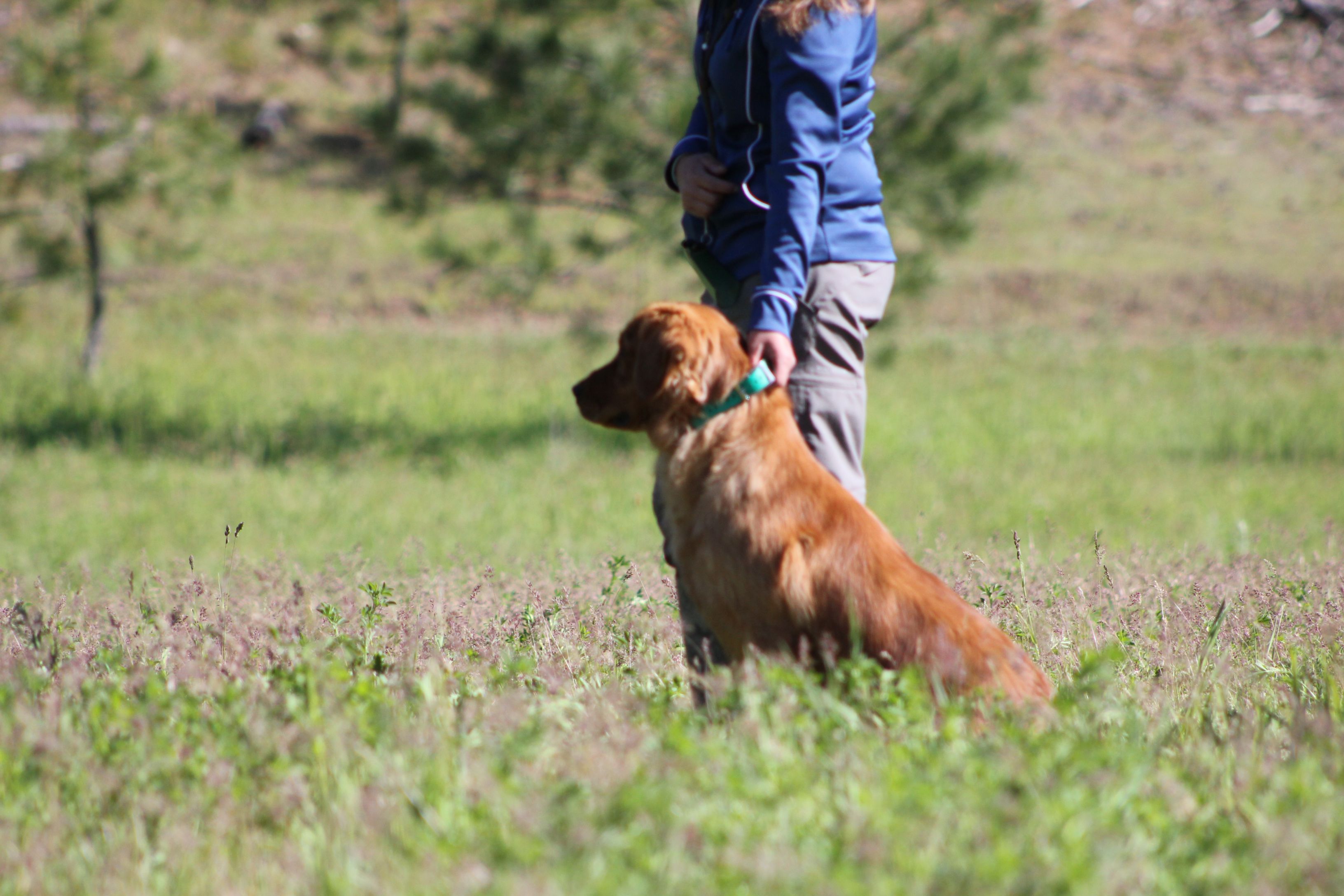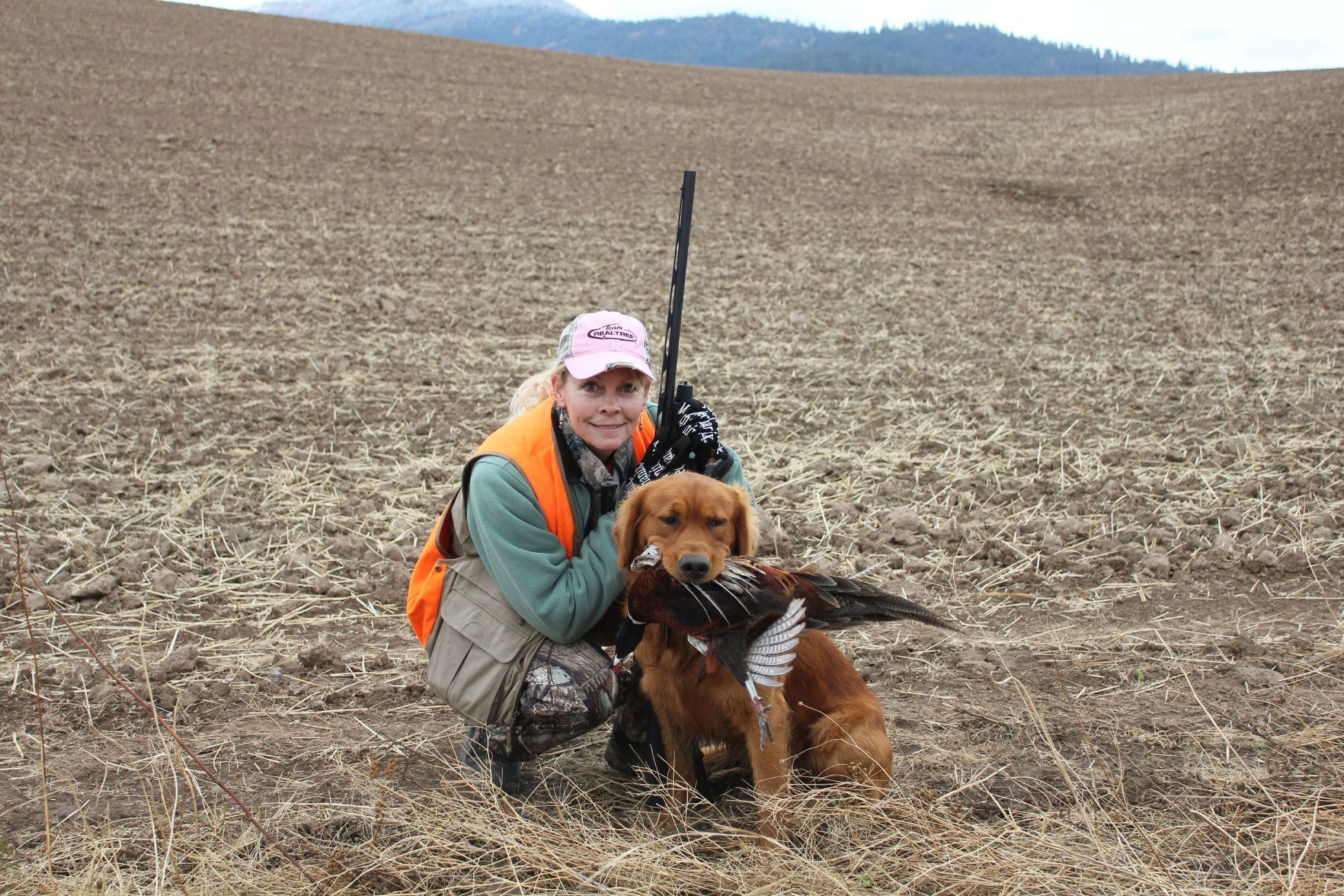 "Kim & Rowdy" on a hunt south of Coeur d Alene, ID Oct. 2012.
Nov. 2012 South Dakota Pheasant Hunt! Dieter Kaboth, co-host of the show "Hunting Adventures", Jessi, Mike, Kim & Rowdy. We all had a great time, the dogs did wonderful and looking forward to next year.
A little about "Rowdy's" sire & dam:
Rowdy's sire "Striker" was in the top ten producing sires in the August/September 2011 magazine. He is duel registered with the AKC & UKC. Striker has the broad head look & weighs about 80 lbs. and 23″ tall. He is stout & athletic. Striker proved himself in the field by 7 months old. He had 3 started passes toward the SHR title. August 17, 03, at 11 months he passed the Started level & received the SHR title. He received his HR title on August 14, 04 and also his UH (upland) title March 13, 05. On June 19, 05 Striker got his "Hunting Retriever Champion" (HRCH) title. In Striker's impressive run of titles he only misfired in 2 tests on the way to 3 titles in 10 months he received his HR, UH and HRCH titles. Striker earned his 500 points by August, 13, 06 & was inducted into the 500 pt. club with HRC. He reached the 1000 pt club May 16, 09. He is now the 4th Golden Retriever to reach this in the history of HRC. Now he currently has 1500 pts. He is an impressive guy!
Rowdy's dam"Emma" is a beautiful golden girl. She loves to perform, she has attitude and tons of personality and loves the attention. She is an excellent marker who runs hard and plays hard. She is duel registered with the AKC & UKC. Emma has recently earned her UH title through the "United Kennel Club" and is working on her other titles. She has proved to be a great producer!