"MK's Headin Into The Storm"
SR87126402
Sire:  HR MK's Rowdy Boys Raisin A Ruckus, JH  SR63606901
Dam:  Idaho Ellie,  SR60168002
STORM WILL BE RETIRED AFTER THIS LITTER, IF INTERESTED IN ADOPTING STORM PLEASE TEXT ME AT 208-659-2538.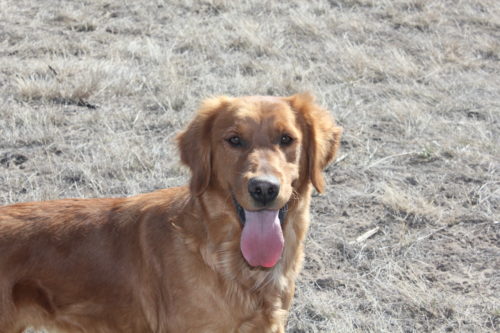 Whelped:  03/17/2015
Eyes:  OFA Normal  Heart:  OFA Normal  Elbows:  OFA Normal  Hips:  OFA GR-120311F30F-VPI  Ichthyosis:  Clear   PRA1:  Clear  PRA2:  Clear  PRA Progressive Rod-Cone Degeneration:  Clear  Degenerative Myelopathy:  Clear  Dystrophic Epidermolysis Bullosa:  Clear  Muscular Dystrophy:  Clear  Osteogenesis Imperfecta:  Clear  Sensory Ataxic Neuropathy:  Clear  NCL:  Clear
"Storm"
Achievements:  "Storm" is a full sister to our "Jade" and the daughter of our "HR MK's Rowdy Boys Raisin A Ruckus, JH"!  If Storm produces offspring like her sister Jade then there is no doubt that you will be getting a great puppy.  Storm has the typical Golden Retriever temperament and is a love bug.  She loves everyone that she meets.  She has a beautiful flat field coat that is a breeze to groom.  Great to have in the house too.  She love water and retrieving, she has a drive nose and is great at finding the birds.  Her pups will excel in all directions as far as a upland, waterfowl, search and rescue, seeing eye dog or just that great active family friend for life!  She is a beautiful girl with golden to dark color.
Pedigree of "MK's Headin Into The Storm"

Parents
GrandParents
GreatGrandParents
SIRE: "HR" Mk's Rowdy Boys Raisin A Ruckus, JH

SR63606901

 "HRCH" "UH" Heldt's Mr Stricke 3 Your Out,  SN92328808
 "HR" "UH" Heldts Mr Hunter, SN64472103
 "SHR" High Spirited Double X Gabby, SN73050210
 "HRCH" "UH" Emma Bee Payne, SR32771605
 "HRCH" Knight Payne Stewart, SN70775908
 "HRCH" "UH" Princess Bridgett Golden Amber Ace, MH  SN78234602
DAM:  Idaho Ellie, SR60168002
 Sungold Big Timber, SN65247009
 Tangelo's Howdy Pardner, SM80021103
 Honey's Golden Widgeon, SM98455405
 Sungold Sassafras, SR28902303
 Brackenhollow King Olaf, SN2392403
 Sungold Goodness Gracious, SN45872902