Available Puppies Now.
Rowdy & Carmel have 1 available male pup ready now!  He is pictured below, please contact Ashlee Dyer for more info on this darling little male at 1-307-277-5032, Laramie, WY.
$1500.00 AKC Limited and $2000.00 AKC Full Reg., shots, worming started and dew claws removed.
Rowdy has a son available with Carmel who is a beautiful and athletic dog with a gentle but focused disposition. She has hunting in her lines, and she is about 60 lbs. Carmel has proven to be a great mother, and her past pups have been healthy with amazing dispositions and intelligence. She also has been genetically cleared with Royal Canin Genetic Analysis. She scored perfectly, and more information about the types of defects and diseases she is clear from can be found at this site http://marsveterinary.force.com/royalcaningha/ She has had clear x-rays of her hips, but they were preliminary. Carmel will be getting her OFA testing done as soon as she has recovered from this litter. Her pedigree can be seen at this link https://www.k9data.com/pedigree.asp?ID=886973 .  If you're interested in adding this pup to your family visit and message Carmel Bliss's facebook page ( https://www.facebook.com/AKCgoldenretrieverpuppies/ ) or email carmelblisspuppies@gmail.com.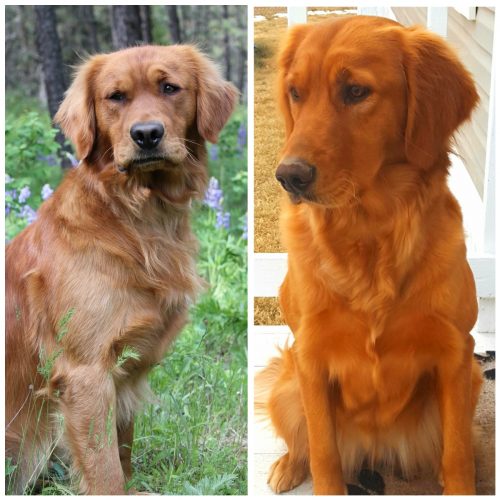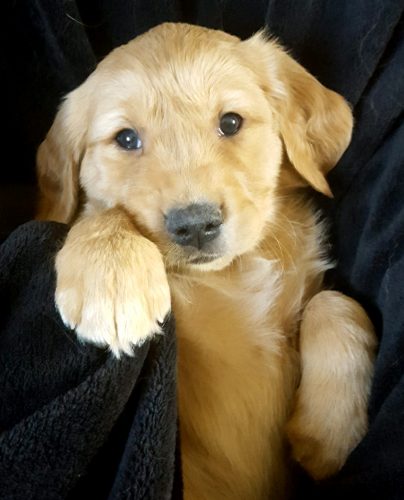 Updated 3/8/18