MK's Little Red Hot Jewell
Jewell
FOR SALE
We have made the tough decision to place Jewell, our hearts are broken to have to do this, but she did not make the cut as a breeding female as our high standards won't breed her.  She had OCD, Osteochondritis Dissecans and had her surgery Dec. 14th to correct it.  We are coming up on 9 weeks post-surgery and she is doing fantastic.  She is just 1 year old, she is crate trained, 95% house broke, we are training in Obedience now and she is doing great but needs more training, loves car rides.  Jewell is very active and would do great in an active home. She is very sweet, wants to be a part of everything you are doing, she loves to lay at your feet or on her bed while you watch TV, she loves long walks, she would make a great antler shed dog, upland dog, dock dog, SAR dog, probably anything you would like to train her to do.  Please seriously inquires only. Fee does apply!
    ******************************************************************************************************************
MK's Windi In Wyoming
SOLD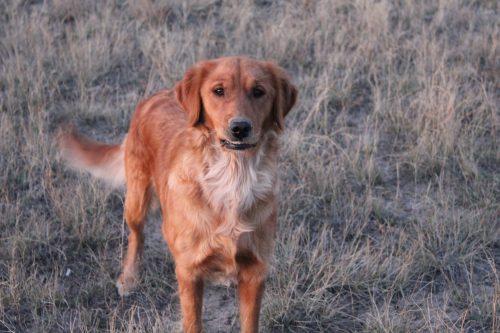 Windi will be retired from our breeding program after her next litter due Oct. 13th, 2021.  She will be spayed in Dec. and when she is ready will go home to her new family Jan. 2022.  Windi would love an older couple for her family and to be the center of attention.  She loves to go on walks and lay on a dog bed.  She can only be a house dog with her new family.  If you are interested in Windi, fill out the Puppy Application and submit, you must have references, own your own home and have a fenced dog safe yard.  Adoption fee will apply.
MK's Miss Molly
ADOPTED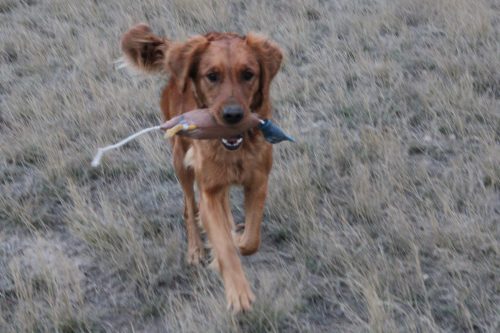 Molly will be retired from our breeding program after her next litter due Oct. 18th, 2021,  the litter will be weaned and when she is ready she will be spayed.  Molly would love an active family, she loves water and loves to swim.  She would love to go hiking, boating camping or what ever her new family does.  She can only go to a family were she will be a house dog and part of the everyday activity with her new family.  She would be available in Jan. 2022, if you are interested in Molly please fill out the Puppy Application and submit.  You must have adequate references, a fenced dog safe yard, own your own home and a house full of love.,  Adoption fee will apply.
_______________________________________________________________________________________________________________________________________
MK's Sungold Canyon
SOLD!!!
MK's Sungold Canyon will be ready to be adopted to the perfect pet home.  She will be spayed in April after she weans her litter and when she is healed up she will be ready.  Adoption fee $ 600.00    Go to Canyon's page for pictures and info.
******************************************************
*******************************************************************************************************
TOPBRASS MK'S SMOKIN GOLD BULLET, JH
AKC #SR87697003, DOB  05/23/2015
SOLD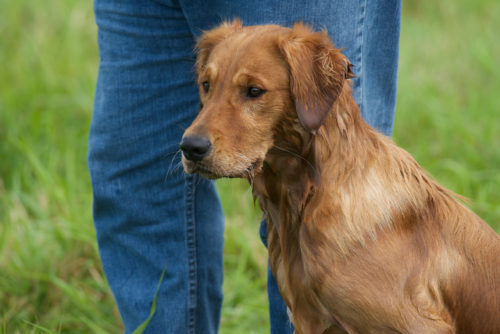 Sire: SMOKINGOLD MAX Q MAVERICK**WCX, SR69117106
Dam: TOPBRASS LOVING LIBERTY, JH SR67123004
Whelped: May 23, 2015
OFA Hips 'Good"
OFA Elbows Prelim "Normal"
OFA Heart "Normal"
OFA Eyes "Normal"
prcd-PRA "Clear" by parentage
PRA1 "Clear" by parentage
PRA2 "Clear"
Ichthyosis "Clear" by parentage
Degenerative Myelopathy "Clear"
Dystrophic Epidermolysis Bullosa "Clear"
Muscular Dystrophy "Clear"
Osteogenesis Imperfecta "Clear"
Sensory Ataxic Neuropathy "Clear"
Neuronal Ceroid Lipofuscinosis (NCL) "Clear"
The genetic tests above are preformed with "Paw Print Genetics" and you can go to there website for a complete explanation on each test!
SOLD
We have made the tough decision to retire Bullet from our breeding program.  "Bullet" received his AKC Junior Hunter Title in May of 2016 and started his transition training for Senior Hunter Title with one pass before the season ended. He is a very handsome male with a beautiful field hair coat that has the feathering on his tail, legs, chest and belly that is a medium to dark gold, he weights 65 lbs. He has tons of drive and is loving the game. He is a pleasure to work with and loves going to work everyday. He has a very loving personality and wants to please. He is a very talented and focused male with a great future ahead of him as a FAMILY HUNTING DOG.  Bullet loves to go to the field hunting as well as a family best friend. His offspring are proving themselves in the field, as family dogs and dock dogs. Bullet is only available to a family that would like to hunt him.  His sweet personality needs to be in a home as a house dog.  He could use a tune up and we will hunt him this fall when we can get away to hunt.  He is not being sold as a breeder and will only have AKC Limited Registration.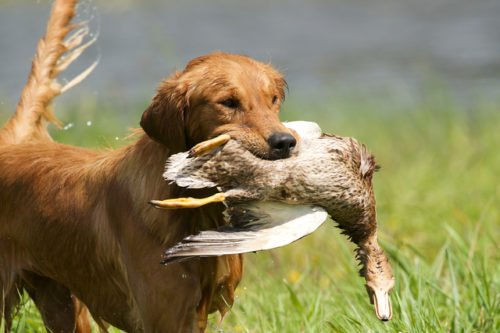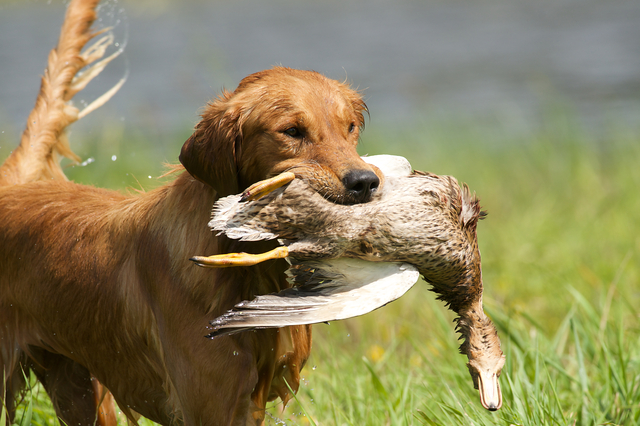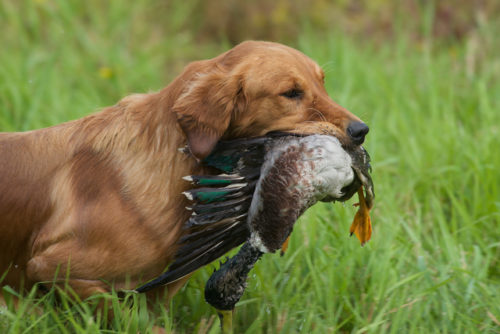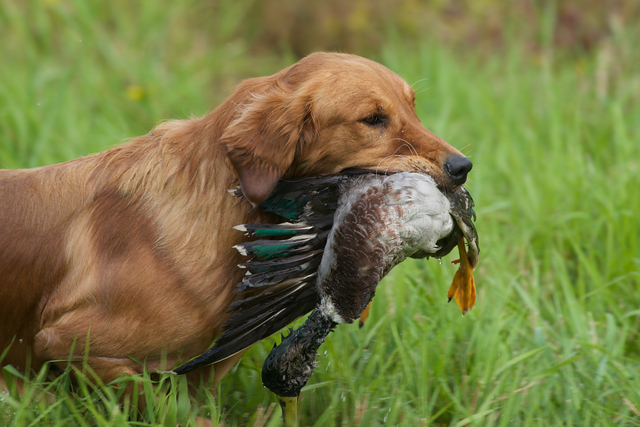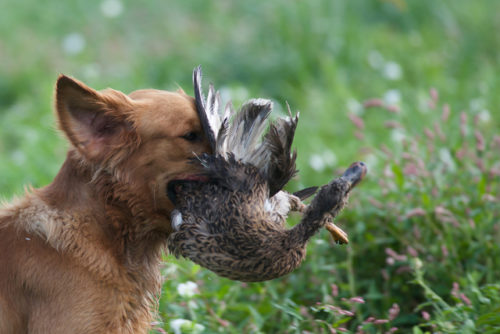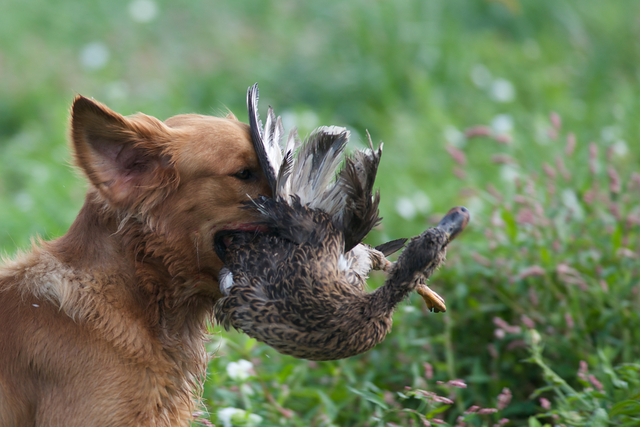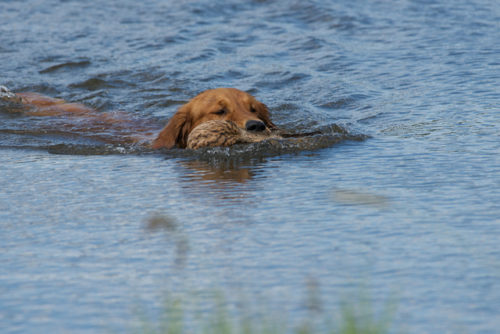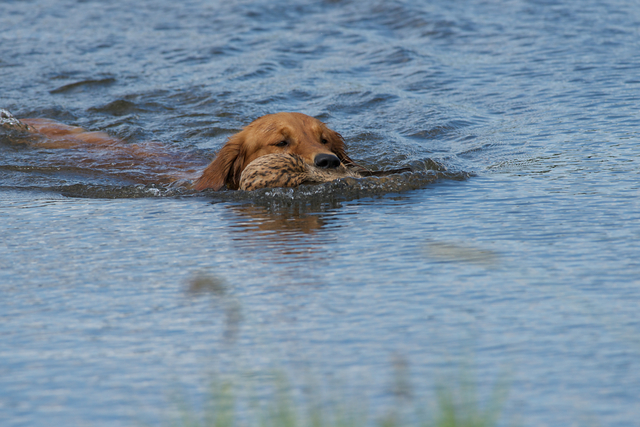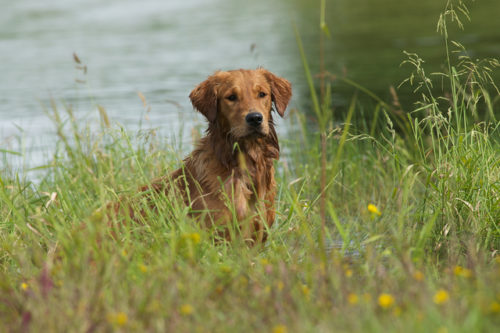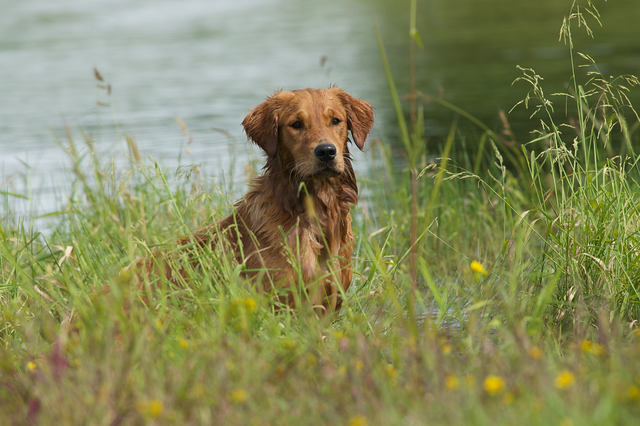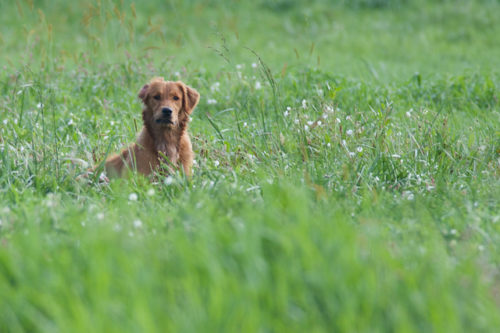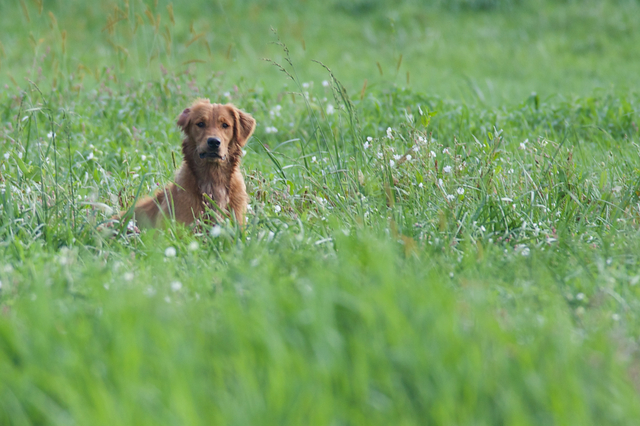 MK'S WILD PRAIRIE ROSE
AKC #SS05053001, DOB 4/06/2018
SOLD !!!
 SOLD!!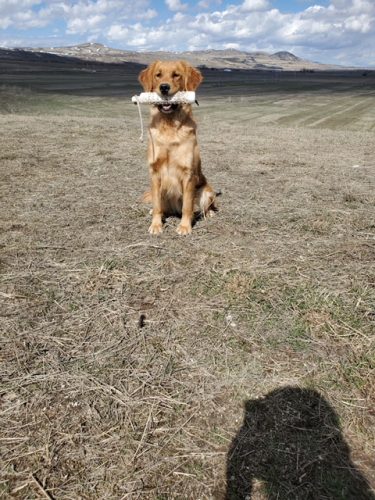 "Rose"  
 We have made a very hard decision and have decided to place Rose in the perfect home.  She loves people, retrieving and is a stunning female.  Rose has a beautiful blocky head and is golden in color.  She is extremely intelligent and very trainable. Rose started her professional hunt and obedience training in February 2020 with plans to get her AKC JH Title this spring but hunt tests keep getting cancelled with the virus going on.  Rose will continue her training in hopes they open up and she can be ran. Rose does have a lot of energy and would be best in a loving home were she will be part of the family that will hunt her or a Hunt Test dog.  The trainer quoted her as:  Rose will make an awesome hunting dog, she's a natural, she marks really great and comes right back and delivers to hand.  She has learned very fast, 3 months  of training and she will have, obedience, heel, here, sit on and off leash, force fetch-delivery to hand, collar conditioning, intro to decoys, steady to gunshot.  Rose would be great with children and other male dogs.   She can only go to a family that will have her as a house dog and give her all the love and attention that she deserves.  We are not sure how she would be with small dogs or cats just because she has never been around them and we do not know how she would be!!! Rose is intact, she was scheduled for her OFA Eyes but they closed there office because of the virus, we plan to have her hips, elbows and heart done in April unless they close there office.  Rose will come with Full AKC Registration, so she will be breedable as long as she passes her clearances.  Rose is Ichthyosis Clear, her diet is Purina Pro Plan Sport 30/20 and NuVet Plus Tabs and NuVet Joint Supplements, you must commit to keeping her on the same diet throughout her life.    You can contact me at goldens@icehouse.net or by text at 208-659-2538, or her trainer Dallon Parks at 435-512-9550.  Below is Roses pedigree.
http://k9data.com/pedigree.asp?ID=1057961
                                                                              Rose!