"Sir Maxwell Of Skyriver"
AKC SR58533308
DOB 12/8/2014
"CHIC#:"  119367
Hips:  OFA "Good",  Elbows:  OFA " Normal",  Heart:  OFA "Normal", Eyes:  OFA "Normal"
Ichthyosis:  "Carrier",  prcd-PRA status: "Clear by Parentage",  PRA1 status:  "Clear by Parentage"
"Max"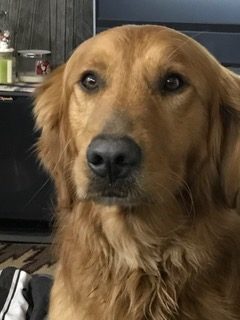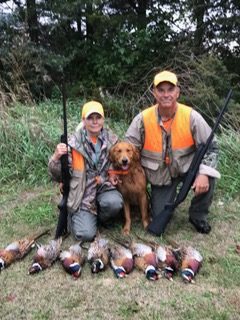 Sire:  Semper Cooper's Mulligan CCA***   SR67197801
Dam:  Skyriver's Genuine By Design, JH SR66254901
Achievements:  Max is a blessing to our breeding/hunting program, he has champion working lines top and bottom that will compliment our females to make great family dogs as well as great field/working dogs.  Although he does not have any hunt titles yet he is excellent in the field and water, retrieves very well and love birds.  Max is eager to please, has great prey drive and loves to work.  Max quarters nicely, putting on a smart and productive hunt. Max has his AKC Canine Good Citizen Certificate and great house manners.   We are very excited to ad him and his offspring!
"Max" is available for stud service, contact us for the requirements on your female.
Pedigree of:   

"Sir Maxwell Of Skyriver "

Parents
GrandParents
GreatGrandParents
SIRE: Semper Cooper's Mulligan, CCA*** SR67197801
 Semper Deuce Cooper, ***OS
 Semper Wasatch Rocky Mtn Kai, MH, ***, OS
 Semper Wasatch Alexis, SH, **, OD
 Ribbon Ridges Red Bow, JH
 AFC, Honeycreek's Jammin' Jaco, MH, OS
 Ribbon Ridge's Purple Cascade, MH
DAM:  Skyriver"s Genuine by Design, JH  SR66254901
 CH. Malagold Augusta's Genuine Article, UD, MH, WCX, VCX, DDHF
 AmCH, MY Sky Watcher, SDHF, OS
 Malagold's Mimosa
 Porjay's Black Eyed Pea, JH
 AFC Emberain Rugby, WCX, OS, FDHF
 Porjay's Gone With The Wind, SH, WCX
Max's sire "Semper Cooper's Mulligan CCA *** is a young up and coming male, owned by Lee Herkowitz in Oregon, who is already showing his talent by earning placements in the Derby and earning numerous JAMs in the Quals.  Mulligan also ran one AKC Master Hunt Test for a pass and should have no trouble earning his title.  Mulligan is continuing his training this year, we can't wait to see what he accomplishes!  Mulligan is also physically correct and earning the CCA Title, (Non-Competitive Conformation Assessment).
Max's dam, Skyriver's Genuine by Design, JH has looks, brains, and drive in the field.  Sweet and sensible, she loves birds and had her first hunting season at under a year old, finding and flushing pheasants in the sand and sage of central Washington.  She earned her AKC Junior Hunter title in 4 for 4 passes, with grace and enthusiasm.  She has an excellent nose and hunts intelligently with strong perseverance.  Her sire is CH. Malagold Augusta's Genuine Article, CDX, MH, WCX, VCX, DDHF,  "Levi" is one of the very few Goldens that has earned the elusive titles of AKC bench Champion, Master Hunter, Duel Dog Hall of Fame and many others!
"Max" at a 13 months out hunting and posing with the labs!