Canyon and Rowdy's litter DUE 1/14/2020
SOLD OUT!
PICTURES ARE OF HER 2018 ROWDY LITTER!
Ready to go to there new homes approx. 3/3/2020.
THIS IS HER LAST LITTER THAT SHE DELIVERED IN 2018, NEW BORN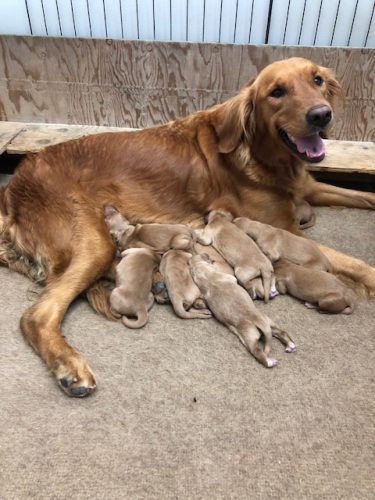 CLICK ON THE LINK BELOW TO VIEW PUPPIES
                                                                  http://www.k9data.com/pedigree.asp?ID=82814 
Canyon delivered 10 beautiful pups and they are doing great.  She is from the famous 'Sungold" lines and her pups will go in any direction that you want!  They will be super smart and very trainable weather the hunter in the field to the active family dog.  They will just want to please there owner.  She is a sweet girl with a big smile, she has that very friendly golden retriever personality!  PUPPY PRICE is $1800.00 for AKC LIMITED REGISTRATION and $2300.00 for AKC FULL REGISTRATION.
Rowdy below.